FIRST ALERT WEATHER DAY: Widespread rain, storms Tuesday evening
Flood Watch in effect beginning Tuesday evening
Published: Mar. 21, 2022 at 5:48 AM CDT
|
Updated: Mar. 21, 2022 at 10:15 PM CDT
BIRMINGHAM, Ala. (WBRC) - Weather remains quiet across Alabama this evening, but a very different story to our west on our First Alert AccuTrack and Radar. A severe weather outbreak is ongoing across the Southern Plains as a strong, spring storm system advances eastward. This system is the same one that could bring us our own dose of severe and wet weather during the PM hours on Tuesday.
As for now, clouds will gradually increase in coverage overnight. Though winds will pick up out of the southeast, dry conditions will persist. Temperatures will only fall into the 50s for tomorrow morning. Just make sure you have the rain jacket and umbrella in tow before you walk out the door.
Tomorrow morning will start off dry and mild under a mostly cloudy sky. Temperatures will surge into the 70s again tomorrow -- above average for mid March. Outside of any rain, non-thunderstorm wind gusts could reach 35-40 MPH, hence a Wind Advisory in place across central Alabama tomorrow. So, make sure you secure any loose, outdoor items well ahead of storms arriving in the afternoon.
FIRST ALERT WEATHER DAY: A potent storm system will move into the Deep South tomorrow, bringing a significant threat for severe weather to our southwest across Mississippi and Louisiana. Ample instability and Gulf moisture will surge inland to help fire up intense storms in these areas. Closer to home, a Level 3/5 risk for severe storms is included across west-central and southwest Alabama tomorrow. This includes Sumter, Greene, Hale, Pickens, and Tuscaloosa counties. All modes of severe weather are on the table: tornadoes, damaging winds, and large hail. We still think the greater likelihood for severe weather however will be outside of our area, but if anyone stood a better chance of severe storms, it would be in our counties southwest of I-65; for the rest of us, the severe risk will be more isolated. But no matter where you live, make sure you have your severe weather safety plan in place and have multiple ways to receive LOUD alerts in case storms come through at night (like the WBRC First Alert Weather app).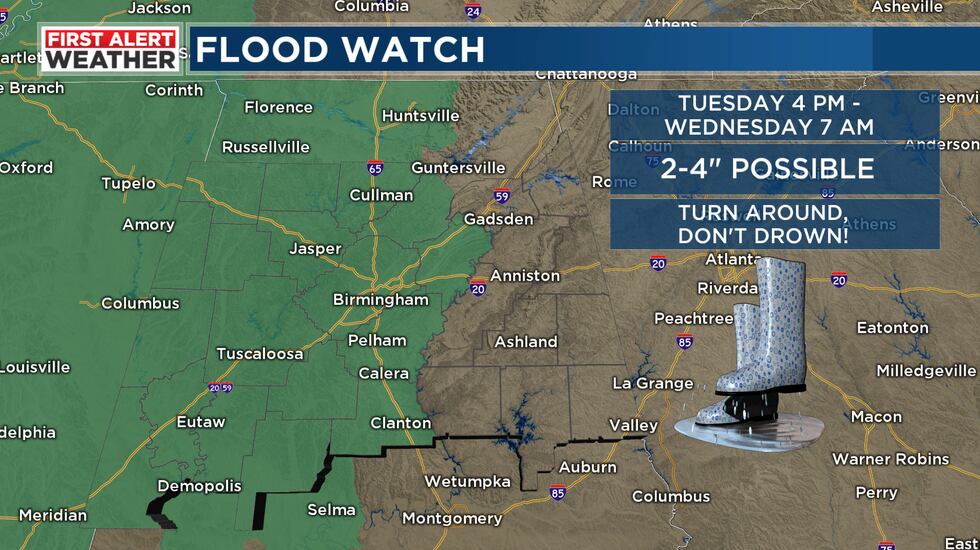 In addition to the "usual" severe culprits, this system also has the potential to produce heavy rainfall that could lead to flash flooding. We have already received a surplus of rainfall so far this month, so with an already saturated ground, our area is under a Flood Watch starting tomorrow evening through early Wednesday morning. Rainfall totals could reach 1-3″ inches with localized higher amounts along and northwest of I-20/59. So, we have a First Alert for the wet roads Tuesday evening and overnight. Avoid travel during this time if possible, and if you do encounter a flooded roadway: turn around, don't drown!
Once any rain and storms come to an end Wednesday morning, the rest of the day will be breezy with partly sunny skies and highs topping out in the 60s. This storm system will bring a cold front across Alabama early Wednesday that will drop morning lows back into the 40s Thursday through Saturday. Highs will stay slightly below average in the low 60s through the weekend. Passing disturbances to our north will keep more clouds than sun around through the end of the work week. The weather looks mainly dry past Wednesday with just a 10% chance or less of a stray shower across north Alabama on Thursday.
Looking ahead to the weekend, expect a mix of sun and clouds on Saturday as another cold front approaches the area. We have a First Alert for some patchy frost possible by Sunday morning with temperatures likely falling into the 30s. Sunday afternoon at least will have plenty of sunshine with highs in the 60s. Taking a peek ahead to next week, the weather looks warm and quiet early on.
CLICK HERE TO GET THE WBRC FOX6 NEWS APP
Subscribe to our WBRC newsletter and receive the latest local news and weather straight to your email.
Copyright 2022 WBRC. All rights reserved.