UAB's motorcycle man becomes part of game day tradition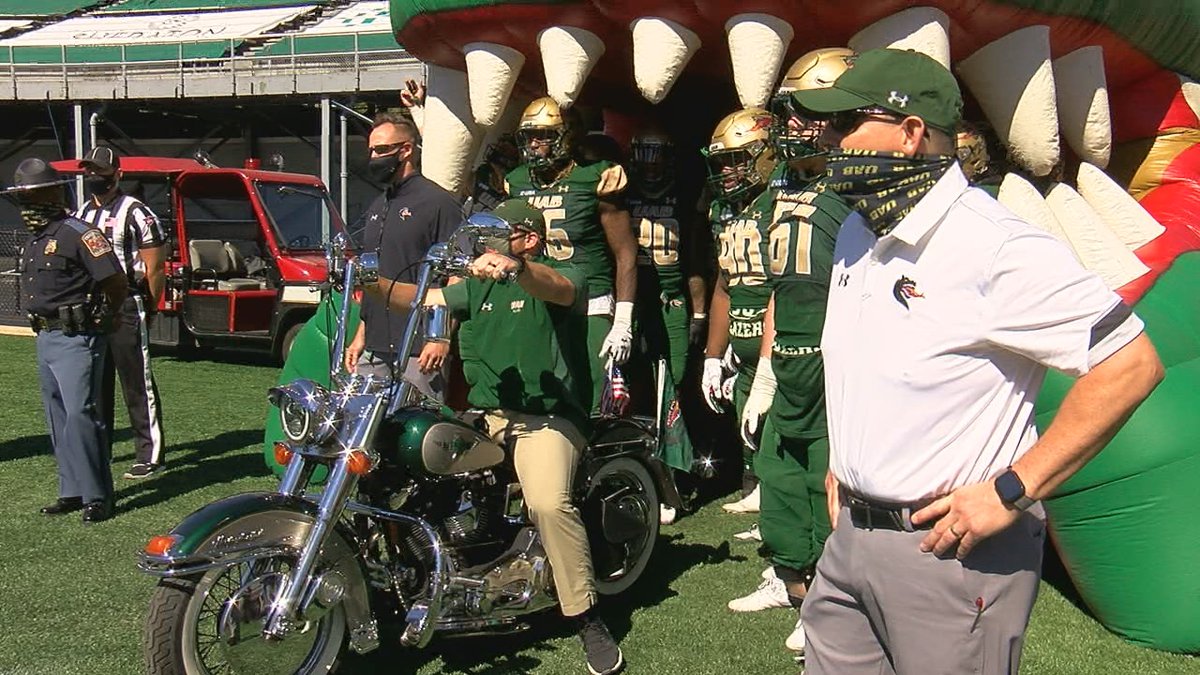 Published: Nov. 7, 2020 at 10:40 PM CST
BIRMINGHAM, Ala. (WBRC) - When UAB runs out of the tunnel, some fans focus on the players or coach Bill Clark, but most see Cody Sellers.
"Anything you can add to the entrance to a player intro, that moment is such a hype moment inside the dragon head, I think it really pumps up the team," said the UAB Spirit Coordinator.
It all started in 2018, a year after the Blazers returned to the football field, when Sellers pitched the idea to lead the Blazers out on the field with his green and gold Harley Davidson motorcycle.
"We were at Charlotte in 2018 and we saw their mascot drive out on the field on a moped and I said that's pretty cool. So I sent Mark Ingram a text saying it just so happens my Harley is green and gold and all he responded was done," Sellers said.
Since then, the revving of the engine before the run out has become an iconic moment on game days.
"I think it gives us something extra for the fans to get pumped up too. When the bike is revving, you can hear it all throughout the stadium, it echoes throughout, and its like you're right there in the tunnel with us," said Sellers.
It may be easy to drive a motorcycle on the road, but on turf, Sellers says it can be nerve-racking especially when he's driving in the middle of cheerleaders, coaches, and players.
"Grass is always scary because it can be slippery when it's wet so turf I didn't really know what to expect, but you can feel the ground shift underneath you because of the rubber pellets. It's a weird feeling at first, but you trust yourself and trust your bike," said Sellers.
UAB's ride at Legion Field ends November 27th, but the Blazers tradition will continue next season on their new turf at Protective Stadium.
Copyright 2020 WBRC. All rights reserved.