Sally makes landfall near Gulf Shores
Updated: Sep. 16, 2020 at 6:36 AM CDT
BIRMINGHAM, Ala. (WBRC) - Good Wednesday morning. The big story is Hurricane Sally. Sally intensified overnight from an 80 mph hurricane to a Category 2 hurricane with winds up to 105 mph. The eye became better defined overnight and officially made landfall near Gulf Shores around 5 a.m. CT. The strongest winds and heaviest rainfall have been battering areas like Gulf Shores and Orange Beach. Rainfall totals have already exceeded a foot with more rain expected. Flash flood emergencies have been issued for the immediate concern of flash flooding and dangerous conditions. The slow movement of Sally will only increase the rainfall totals across the Alabama and Florida coast.
It was 16 years on this day when Alabama saw its last hurricane make landfall. Hurricane Ivan made landfall during the morning hours of September 16, 2004 near Gulf Shores. Who would have guessed that exactly 16 years later Sally would make landfall at Gulf Shores too! Sally is forecast to move slowly and be in far south Alabama near Brewton by this evening. It will then continue to move to the northeast into Columbus, GA by Thursday morning. I'm worried that Pensacola, Florida could see devastating impacts with a long duration event of damaging winds, heavy rain, flooding, and storm surge.
SALLY IMPACTS ACROSS CENTRAL ALABAMA: We are seeing cloudy conditions with temperatures in the upper 60s and lower 70s. It is very breezy with easterly winds at 10-15 mph. Winds are expected to increase to 10-20 mph this afternoon with gusts as high as 25 mph. Rainfall projections have lowered a little across Central Alabama thanks to the easterly track Sally is making this morning. We might not see a lot of rainfall in our northwestern counties. Birmingham could see around an inch at best with the highest totals occurring in Coosa, Talladega, Chilton, and Tallapoosa counties where rainfall totals could still add up around 1-3″ with isolated spots seeing higher totals. Flash Flood Watch continues for today into tomorrow for areas along and south of I-20/59. Jefferson County is no longer included in the flash flood watch. Temperatures are expected to stay in the 70s today.
WEDNESDAY MORNING: We are planning on staying cloudy with some scattered showers. Showers will be possible in our far southern counties as some of the outer rain bands slowly move northward. Temperatures holding in the lower 70s.
WEDNESDAY NOON: We aren't expecting widespread rain at noon, but scattered showers from Sally will be possible. We will stay cloudy with sustained winds at 10-20 mph. Temperatures in the low to mid 70s.
WEDNESDAY 5 P.M.: Areas along and west of I-65 could stay mostly dry with only a small chance for showers. Bulk of rain will likely occur south of I-20 and east of I-65. Areas that will likely see rain include Shelby, Calhoun, Tallapoosa, Coosa, Talladega, Chilton, Bibb, and St. Clair counties. Temperatures expected to stay in the lower 70s with easterly winds at 10-20 mph. Gusts near 25 mph.
WEDNESDAY 10 P.M.: Same spots that see rain at 5 p.m. will likely continue to see rain after sunset. We will likely see a sharp divide in spots that stay dry vs wet. If you live in Hamilton, Cullman, Fayette, Jasper, and Tuscaloosa, you will likely stay mostly dry. All of this has evolved thanks to latest forecast track of Sally.
RAINFALL POTENTIAL: We will likely see a quarter of an inch or less if you live in Marion, Winston, Cullman, Lamar, Fayette, Walker, Tuscaloosa, and Pickens Counties. I think the drop-off from low to higher rainfall totals could occur in Jefferson county where northern parts of the county could see rainfall totals less than a quarter of an inch. Greatest coverage of rain today will occur in east Alabama where most spots could record 1-2 inches. Some spots like Chilton, Coosa, and Tallapoosa counties will see the highest rainfall totals around 2-4 inches. Flash flooding is still possible in areas that could see a few inches of rain today. Best chance for rain will occur this evening and into the overnight hours. Remember to never drive through flooded areas. Turn around, don't drown. Flash flood threat increases as you head south into southeast Alabama. Southeast Alabama will also have the greatest potential to see a few isolated tornadoes. Severe weather is not expected in Central Alabama today.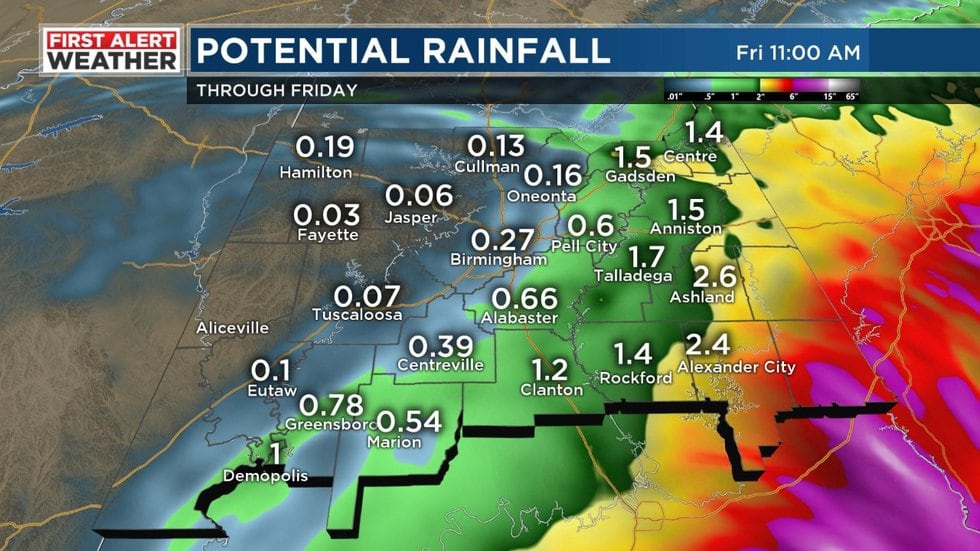 THURSDAY'S FORECAST: We will begin to trend drier Thursday with a chance for a scattered showers during the first half of the day. We will likely stay mostly cloudy with a wide range in temperatures possible. East Alabama could remain cloudy and cooler with highs in the 70s. West Alabama could see a few breaks of sunshine tomorrow afternoon warming us up into the low to mid 80s. Rain chance around 30-40%.
FIRST ALERT FOR COOLER AIR THIS WEEKEND: Cool air is forecast to move into Central Alabama over the weekend. We will likely stay mostly cloudy Saturday afternoon with highs only climbing into the mid 70s. Northerly winds will help keep our temperatures down below average. Clouds are expected to decrease Saturday evening and give way to temperatures in the upper 50s by Sunday morning. Sunday is shaping up to be mostly sunny and beautiful. Humidity levels will go down with highs in the mid to upper 70s.
FALL WEATHER CONTINUES NEXT WEEK: First day of fall officially begins Tuesday, September 22 and it will feel like fall going into next week. High temperatures are expected to climb into the upper 70s and lower 80s with morning temperatures in the 50s. There's a chance we could see lows dip into the upper 40s Tuesday morning. How about that?
TROPICS REMAIN EXTREMELY ACTIVE: Besides Sally, we continue to monitor Paulette, Teddy, Vicky, and three other tropical waves. Paulette is weakening and moving into the Northern Atlantic away from the United States. Teddy is rapidly intensifying and is now a Category 2 hurricane. It has the chance to become a major hurricane in a few days. Vicky is forecast to stay in the open Atlantic and gradually weaken and dissipate.
We have a high chance of a tropical wave that could develop into a tropical system in the far eastern Atlantic. We are also watching another disturbance in the western Gulf of Mexico that has a medium chance to develop into a tropical depression or storm in the next five days. Models have been hinting unsettled weather in that area going into next week. Mexico and parts of south Texas should pay close attention to this tropical wave.
Make sure you download the WBRC First Alert Weather App for the latest weather information.
Have a safe Wednesday!
Copyright 2020 WBRC. All rights reserved.