Montgomery officer Aaron Cody Smith resigns after manslaughter conviction
Smith fatally shot Gregory Gunn while on duty in February 2016
Updated: Nov. 22, 2019 at 5:49 PM CST
OZARK, Ala. (WSFA) - A Montgomery police officer was convicted of manslaughter Friday for unjustified use of lethal force in the on-duty shooting death of Gregory Gunn.
Aaron Cody Smith fatally shot Gunn, 59, after encountering him while patrolling on McElvey Street in west Montgomery in the early morning hours of Feb. 25, 2016.
A majority white Dale County jury chose to convict Smith after hearing from a dozen witnesses, including Smith himself, over three days. They deliberated for about two hours before returning with the unanimous verdict early Friday afternoon.
Smith was charged with murder, but the jury was given the option to consider the lesser included charge of manslaughter.
[Attorney Wallace Mills gives insight on Aaron Cody Smith conviction]
Retired Circuit Judge Philip McLauchlin Jr., charged the jury Friday morning, instructing them on a number of legal definitions and elements, including murder, reasonable doubt, self defense and intent. The judge also advised the jury on the legal elements of consensual and Terry stops. Citizens can decline to speak to police in a consensual stop. Officers can make a Terry stop if they have reasonable suspicion a person has committed a crime. Those stopped in this situation can't decline to speak to police.
After the reading of the verdict, Smith was immediately taken into custody and will remain in jail pending a bond hearing.
The Montgomery Police Department confirmed Smith resigned from the department effective immediately Friday.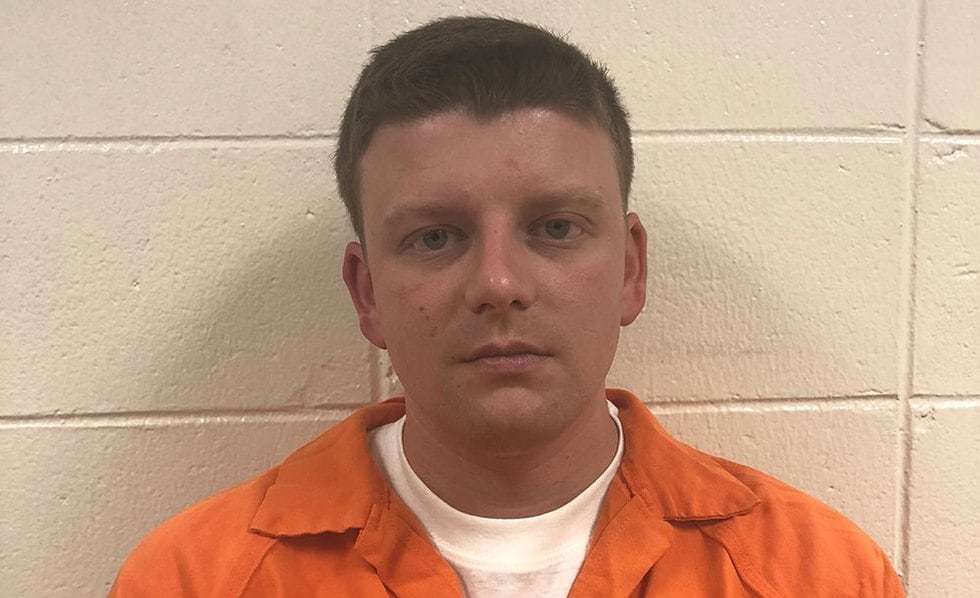 District Attorney Daryl Bailey said the jury made the right decision in finding Smith guilty.
"This defendant gave statement after statement after statement after statement with large pieces of the facts he would change. The other thing that came out is that he shot this guy in the back first. That was the first shot that he made on this," Bailey said. "The other fact that came out is that this victim had a hat in his hand at the time of his death, and he was clinching to that hat, impossible to do the things that this defendant said he did while clinching that hat."
[Continuing coverage: Officer Aaron Cody Smith trial]
Bailey said he is going to ask for the maximum sentence of 20 years. He will also fight any requests for bond.
"He needs to be in the county jail until he goes to prison just like everybody else," Bailey said.
Defense attorney Mickey McDermott said they are disappointed, but the defense team has some hope based on the jury's decision.
"They were given the option of murder, manslaughter, or not guilty and they chose, basically, to split the baby," McDermott said.
The defense will appeal the verdict, and they will seek an appeal bond to allow Smith to be out of prison while his case is pending before an appellate court.
Gregory Gunn's brother Franklin Gunn thanked the jury for its verdict and the prosecutors for how they handled the case.
"I believe we have seen the best of Alabama today and one bad apple in a bunch has been weeded out," Franklin Gunn said.
Montgomery Police Chief Ernest Finley said he was "somewhat" surprised by the verdict but respects the jury's decision. He said there is a feeling of shock within the department.
"We have to handle this and move on, and so it's going to be a healing process not only for the great men and women of MPD but also the community as well," Finley said.
New Montgomery Mayor Steven Reed reacted to the verdict Friday afternoon in a statement:
"This is a tragedy that we must not forget, we must learn from it, and move forward together to do everything in our power to make sure something like this never happens again. I've been focused on dramatically improving communication and the overall relationship between our police and the community for a long time. We all know one officer's tragic mistakes don't reflect upon all of the well-trained, committed and effective police officers we have who are protecting and serving. That said, we will look at if better training of our officers is needed. Better training could prevent a tragedy and prevent crime in general. One family's wounds will never be fully healed. From the rest of us, reflection and action can help Montgomery heal and move forward."
[Timeline: Gregory Gunn's death and Officer A.C. Smith's arrest]
The ACLU of Alabama said it was encouraged by the guilty verdict and hopes it provides the Gunn family with "a semblance of justice."
"The Montgomery Police Department, other law enforcement, and other government officials should take proactive steps to implement reforms that limit when and how police use lethal force and ensure that officers prioritize de-escalation. Everyone deserves to be treated with the dignity and respect that Aaron Smith denied to Greg Gunn," the ACLU of Alabama said in a statement.
The trial was held in Dale County after a series of petitions to have the trial moved out of Montgomery County.
In January, the Alabama Supreme Court agreed with the defense that a comment made by Montgomery Circuit Judge Greg Griffin during Smith's immunity hearing could influence a potential jury and granted the defense's petition for a Writ of Mandamus, forcing Griffin to recuse and granting a new trial venue outside the footprint of the Montgomery media.
McLauchlin was the ninth judge to preside over this case following a number of recusals.
In opening statements on Tuesday, prosecutor Ben McGough spoke to the jury about the case against Smith, categorizing the officer as a "bully with a badge" who's had an ever-changing account of the events that led to Gunn's death.
McGough told the jury the state believes the use of lethal force against Greg Gunn was unjustified.
In his opening statement, McDermott told the jury during the trial they would see Smith was following proper procedures throughout the entire situation.
The state called several witnesses including Smith's fellow officers and the State Bureau of Investigation investigators who interviewed Smith after the shooting. Testimony included recordings of Smith's calls to dispatch and the two interviews investigator conducted with Smith.
On Thursday, the state rested and the defense called Smith to the stand. For more than an hour, he broke down the events on the night of the shooting, saying he'd been told to "stop everything that moves" in his district. He stopped Gunn because he believed he matched the description of a suspect wanted for property crimes.
Smith said during a pat down of Gunn he felt a hard object he believed might be a weapon, and Gunn swatted his hand. After, he said Gunn ran, and he issued verbal commands to stop, deployed his taser, and used his asp (police baton) on Gunn to no effect.
The pair arrived at a front porch, where Smith said Gunn grabbed a paint pole. That was when Smith said he fired his weapon, as he feared for his life.
Copyright 2019 WSFA 12 News. All rights reserved.