Handmade quilts made in Cullman going to soldiers overseas
Updated: Apr. 11, 2019 at 6:41 AM CDT
CULLMAN, AL (WBRC) - What started as one quilt for Betty Weissand's son, Ricky has ballooned to 36 and counting. Weissand gave her son the quilt before he was deployed. Weissand said her son called and asked for 36 more after soldiers in his platoon noticed his quilt.
"When he called me , he said mom the guys said they will pay you for them . There's no way I will take money from them to do this," recalled Weissand.
She had no idea how or if she could get it all done, but the community stepped up in a big way.
"I told my husband that I didn't know how I would do this, but God will make a way and he has," she continued.
Donations came into to help with the cost, but it was the people who made the quilts that made sure each soldier would have one.
The members of Heartland Quilt Guild of Cullman made each quilt, with love and gratitude. Each quilt is embroidered with heartfelt messages like " We appreciate your service" and "Our thoughts are with you ."
The red, blue and white quilts are also decorated with American flags. Sheryl Simpson, is apart of the Guild.
"It was something I felt led to do . We enjoyed doing them so much. It was a wonderful opportunity in our small way to serve," said Simpson.
The quilts were boxed up Wednesday, but not before the Guild and the Weissand's snapped a few pictures to mark the moment.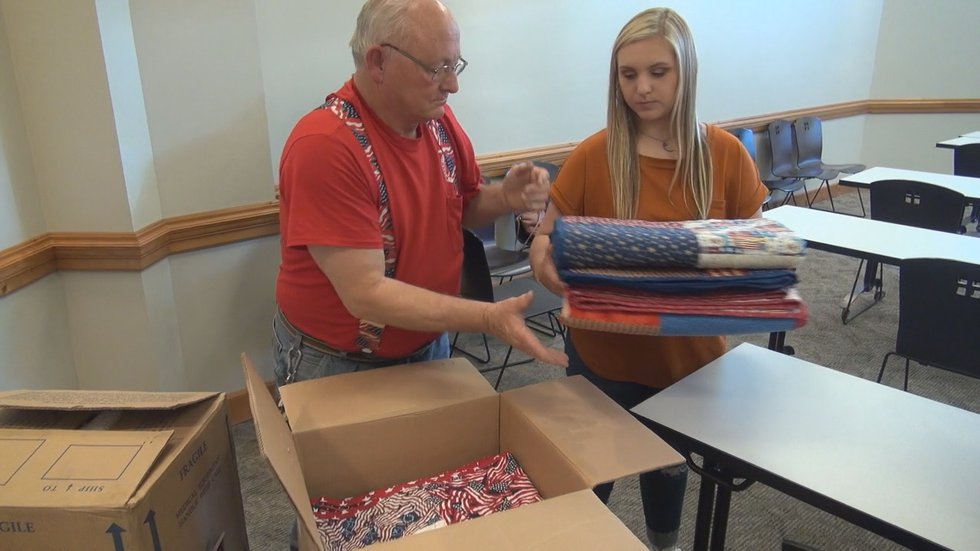 "It's been a blessing to get it done and he's so excited," said Weissand.
Congressman Robert Aderholt's Office will take the quilts next week to Redstone Arsenal and they will be flown out to the platoon.
Copyright 2019 WBRC. All rights reserved.