Death toll rises after east Alabama tornadoes
First tornado was at least an EF-3 and half a mile wide, according to National Weather Services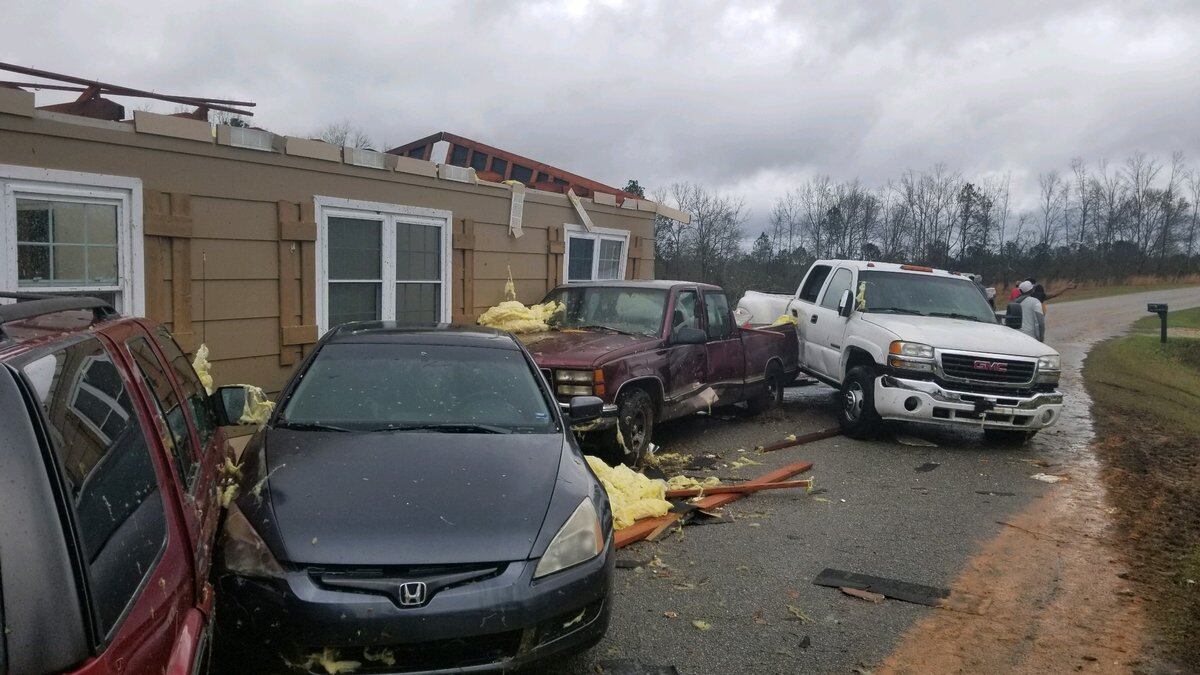 Updated: Mar. 3, 2019 at 11:30 PM CST
LEE COUNTY, AL (WSFA) - The death toll has jumped to 23 and could go higher after at least two tornadoes hit southern Lee County Sunday afternoon, according to Lee County Sheriff Jay Jones.
The sheriff said people are still reported missing, and a more organized search will be conducted in the morning.
"We've done everything we feel like we can do this evening. The area is just very, very hazardous to put anybody in to at this point in time - debris everywhere and it's just...just some mass damage to structures and residences in the area," Jones said.
He didn't give any details about the locations or exact circumstances of the deaths.
Lee County Coroner Bill Harris said the victims range in age from children to older adults.
Family members on the scene identified one of the victims as an 8-year-old girl.
It's unclear how many people are injured. Sunday afternoon, East Alabama Medical Center said it had received more than 40 patients as a result of the tornado and more were expected. Some of the patients were sent to surrounding hospitals. EAMC officials said elective procedures at the hospital for Monday have been cancelled.
The hardest hit area is Lee Road 38, which is south of Beauregard.
The Lee County EMA is asking residents to avoid the damaged areas, especially Lee Road 38 and Lee Road 39. Also, Lee Road 166 at Lee Road 40 and Lee Road 165 at Lee Road 40 are closed and will remain closed until damage assessments are made. Lee Road 721 will be closed indefinitely.
The coroner said Sunday night there were still areas that authorities hadn't reached. He added that injured victims were having to be transported by trucks out of some of the damaged areas because ambulances couldn't get through the debris.
He said they were still working to identify the victims who had been recovered and notify families. Coroners from around the state were coming to assist.
"This is a day of destruction for Lee County. We've never had a mass fatality situation, that I can remember, like this in my lifetime," Harris said.
Anyone who has a missing family member can call his office's 24-hour phone number at 334-737-3620. You can also go to the Lee County EMA website.
[MORE: Damage reported across east Alabama]
The National Weather Service in Birmingham says the first tornado that impacted Lee County Sunday afternoon was at least an EF-3 and at least half a mile wide. The NWS will be sending survey teams to do more detailed assessments in Autauga, Macon, Lee, Barbour and Butler counties Monday.
State EMA Director Brian Hastings said state personnel were assisting authorities in Lee County and helping with search and rescue efforts. He said they were also working with Verizon on cell phone issues in the area.
Alabama Gov. Kay Ivey also extended the state of emergency she issued on Feb. 23 to cover the entire state.
Smiths Station Volunteer Fire Department Station #1 at 50 Lee Road #430, Smiths Station, AL 36877 was designated as an area for citizens affected by the storms to seek shelter.
Providence Baptist Church at 2807 Lee Road 166 in Beauregard also opened as a Red Cross shelter. Anyone living in or around the affected areas is encouraged to register on the Red Cross Safe & Well website.
Lee County Schools will be closed Monday due to the storms. This doesn't include Opelika and Auburn, which have their own school districts. Lee-Scott Academy will also be closed.
Lee County is in east Alabama and is home to Opelika and Auburn.
Copyright 2019 WSFA 12 News. All rights reserved.