You should enjoy the dry weather Wednesday
We stay dry today, but rain will be likely Thursday
Updated: Dec. 26, 2018 at 6:03 AM CST
BIRMINGHAM, AL (WBRC) - Happy Wednesday! Today is the day to get anything accomplished while outdoors. Rain is on the way starting tomorrow morning! We are starting off in the 40s. We'll see a little bit of sunshine today, but it'll be mostly cloudy. Temperatures will be warmer today. We were in the 50s yesterday. Expect high temperatures to climb into the lower 60s with easterly winds at 5-10 mph.
First Alert: Winds will begin to increase tonight and tomorrow as our next system develops. We'll likely see southeast winds at 10-15 mph tonight. Winds on Thursday will be sustained at 10-20 mph with the potential to see wind gusts near 30 mph.
Next Big Thing: Get ready for a lot of rain Thursday into Friday. A dynamic system will develop to our west and move to the east. We'll see a lot of moisture across the area spread northwards Wednesday night into Thursday morning. We'll likely see widespread showers and maybe a few rumbles of thunder. Temperatures will be in the 60s.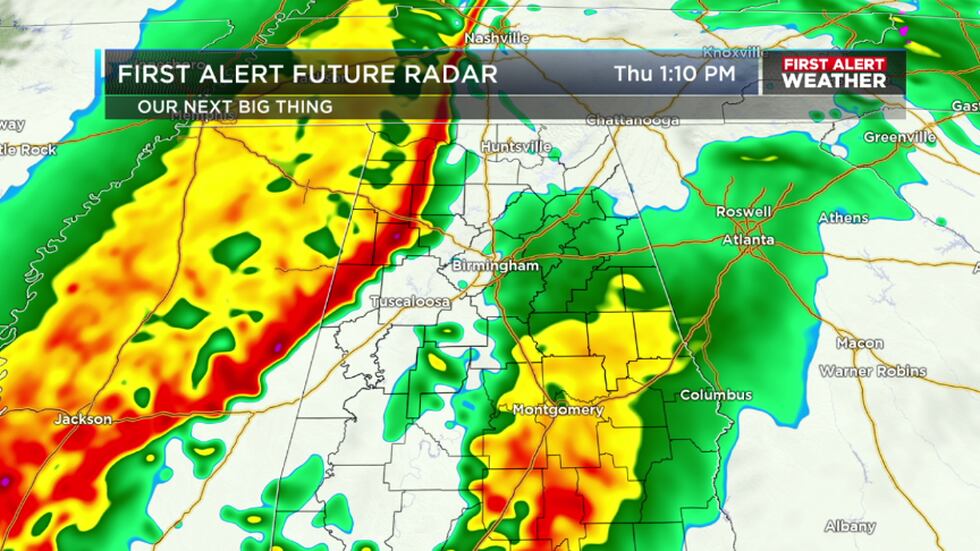 Severe Threat: There's a small window we could see a few strong storms move through Alabama Thursday evening into early Friday morning. Instability will remain low but we might have enough dynamics in play for a strong storm to develop and produce locally gusty winds. We'll watch for this potential and keep you updated. The severe threat is low or marginal.
Heavy Rain: The big story over the next several days is the rain. We could easily see rainfall totals add up around two to four inches through Sunday. Isolated spots could see up to five inches. We'll have to monitor the potential for flash flooding as this system moves through.
Music City Bowl: Rain will be likely Friday morning, but the forecast is trending mostly dry for the kickoff of Purdue and Auburn at 12:30PM in Nashville, TN. Temperatures will be in the mid 60s.
Orange Bowl Saturday: Weather is also shaping up to be nice for the Crimson Tide as they play the Oklahoma Sooners. Temperatures will be in the mid 70s with a partly cloudy sky.
Make sure you download our WBRC First Alert weather app to receive critical weather notifications as our next system moves through the state. We'll keep you updated there, social media, and on WBRC FOX6.
Copyright 2018 WBRC. All rights reserved.